Straighter Teeth With Clear Aligners
If you want to improve your smile without having to get braces, clear aligners are a great option.
They are a series of clear removable trays made of thin plastic and custom-fitted to fit your teeth. The trays are switched out every few weeks to gradually move your teeth with constant, gentle pressure. Treatment takes around 6-18 months depending on your teeth's alignment.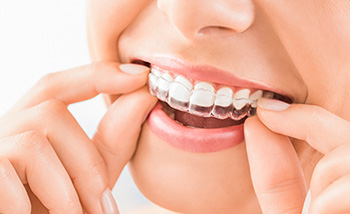 What are the Benefits of Clear Aligners?
Convenient – Compared to conventional braces, you can remove aligners to brush your teeth. Just make sure to wear them for 20-22 hours a day.
Comfortable – No brackets and wires! The plastic trays slide easily on your teeth and fit more comfortably.
Discrete – Since these aligners are clear, your natural teeth can shine during the duration of the treatment. You don't have to worry about wires and brackets hindering your smile.
Clear aligners, especially those from G's Dental Studio's Reveal® collection, can resolve many misalignment issues including open bites, crowded teeth, crossbites, underbites, gaps, and crooked teeth.
New copy for Frequently Asked Questions section (questions below in bold, answers directly below each question):
How do clear aligners work?
Clear aligners are a series of clear, custom-made plastic trays. They are worn over your teeth and apply constant pressure to move teeth a fraction of a millimeter at a time. They are changed out every few weeks and must be worn consistently for 20-22 hours a day. For more details about the procedure, book a consultation with our team.
How much do clear aligners cost?
The cost will vary by the brand of aligners, your specific treatment plan as well as the duration. It can start around $2300 but really depends on your specific treatment. During the initial consultation, our team will evaluate your teeth's needs and give you a better understanding of how much your treatment will cost.
How long do clear aligners take to straighten teeth?
Depending on the severity of teeth alignment, the treatment can take around 6-18 months. It also depends on how properly the aligners are worn. The aligners need to be worn for at least 20-22 hours a day or else the duration of the treatment may be extended.
Schedule a consultation today with our team to learn how long your procedure will take.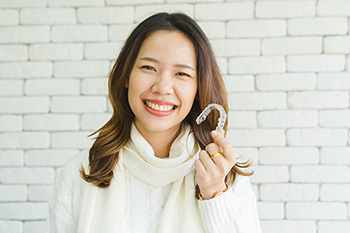 What to expect during treatment with clear aligners.
During the consultation, our team will give you an overview of the whole treatment process.
To create your treatment plan, we will use an intraoral scanner to create a 3D image of your teeth. This will be used as a guide to shape and create the aligners.
We will then have your personalized set of aligners created. In most cases, you will receive the entire set at once. The dentist will give you specific instructions on when to switch out each set of aligners, how to care for them, and what you should or should not do during treatment.
After wearing a set of aligners for a few weeks (usually 2), you will switch them out and wear the next set of aligners in your treatment.
During the treatment, check-up visits are needed so the dentist can make sure the treatment is going as planned.
After you finish wearing each set of aligners, the treatment is done and you will have a set of straight teeth.